My damn computer has been such a brat lately. Pretty much the whole top row of the keyboard hasn't been working and it's really pissing me off. It's working now so I must take advantage and write a blog! By the way, that's why I haven't been commenting much lately, it's just too slow and frustrating.
So, Sunday was our last day of classes, which obviously called for celebrations afterwards. It was a really fun night, and so many people came out. Not just our usual little group of foreigners, but some of the Chinese teachers too. Also, the new foreign teachers had arrived so they came out too. Out with the old and in with the new! We went to that bbq restaurant, and this time ordered a reasonable amount of food as opposed to the truckloads of squid we acceidentally ended up with last time. It was kind of cool to see the new teachers in their first days here, everything being new to them. And then us, the old wizened ones, giving them pointers and telling our stories. Haha! Piles of beef, lamb, chicken hearts, sweet potatoes, buns, and squid, along with a few pints of beer to wash it all down. Grand total: $3 per person.
Next it was on to Noah's, our usual pub, to sit on the patio and drink more beer. Ryan, Theran and I treated ourselves to some celebratory Cuban cigars. Aren't we just the toughest? I figure the mob will try to recruit me after seeing this pic.
Sometime around 1 maybe, we made the move to JDs, the bar we always end up at after too many beers. It's filled with foreigners, mostly Russians. Drank a bit, danced a bit, the usual bartime antics. When it closed we weren't quite ready to go home so we decided to check out another bar a couple of blocks away, but it was closed when we got there. As we stood around trying to choose our next move, someone said to Theran "your leg is bleeding." And so it was. Actually, the bleeding had mostly stopped after soaking his sock and shoe. Now it was best described as a disgusting gaping wound.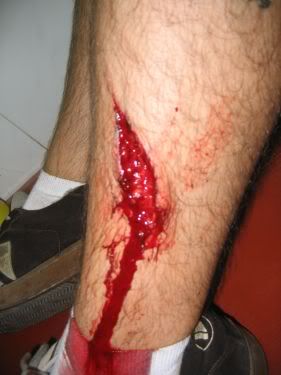 Hospital time! Theran didn't know how it happened and couldn't even remember feeling anything. How could anyone not notice? He said it didn't hurt and the combination of alcohol and shock wasn't giving him the best judgement. He still wanted to find another bar and then go to the hospital in the morning. Hello! If your guts were in your leg, they'd be spilling out right now!
That pretty much ended the night and we walked to the hospital. Luckily hospitals seem almost as common as bars here, and there was one very close by. Everything went really smoothly too, the doctor and nurse spoke a bit of English and there was really no one else there at 3 in the morning. First we went into a big, fairly empty room where the doctor looked at Theran's leg and wrote out a prescription. The hospital didn't quite have the same sterile, antiseptic look like we're used to, espicially with the mosquito net hanging over the bed, but it wasn't bad.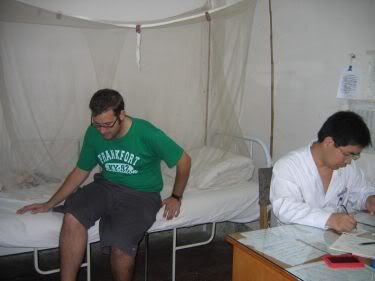 Next we went and paid for everything. About $45. Then we went to see the nurse, who gave Theran a tetnus shot in the bum (I've got a pic, but I don't think Theran wants his ass on the internet. Then again, I could be wrong).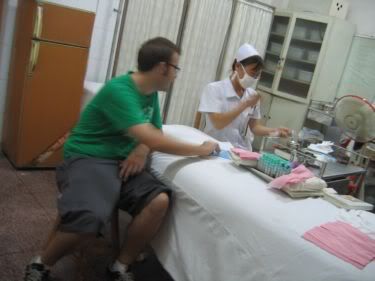 Ryan patiently waited in the corridor.
Now time for the stiches. Theran was very brave. I'd have been a nervous wreck for sure.
They didn't want me taking photos during the stitching, I was only allowed an after shot. I've never seen anyone get stitches before, but the doctor seemed so rough! Mostly when he was giving him the anesthetic. Jabjabjab! Blech.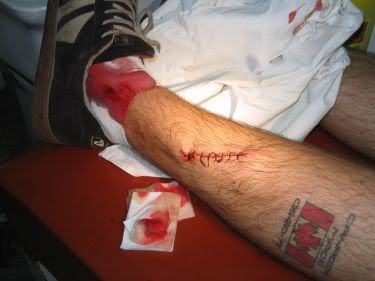 So, all stitched and bandaged up and ready to go.
He has to go back in a few days, I guess to change the bandage. And that was it! Definitely a night to remember.
A friend is throwing us another goodbye party on Wednesday. I hope we make it out unscathed.